PERPETUAL MOTION & THE WORLD BELOW
A Doctor Introspection Mix
Fandom:
Doctor Who
Subject:
The Doctor (with canon pairing overtones)
Basic Idea:
This mix is sort of a combination of a character mix and a companion-selection mix, if that makes any sense.
8 tracks, individually uploaded and a zip at the end. Feel free to bug me if there's any problems. Cover image from a google search.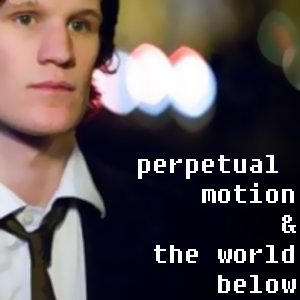 ( we were an accident )