DESTINY UNFOLDED
A Evelyn Salt/Mike Krause Fanmix
Fandom:
Salt (2010 Film)
Warnings:
Probably SPOILERS.
Notes:
I like Angelina Jolie and I like August Diehl, so it wasn't much of a suprise I'd like this movie. Cover pictures copyright their respective owners. Other pictures were captured from the various trailers, by me.
Favorite scene from the movie? Mine was when Salt choked the guy with the handcuffs by hanging over the banister, pretty much in front of everyone in the secret service. The expression, the raw EMOTION on Salt's face was AMAZING.
So, you can say that was what inspired me to make this fanmix, because Evelyn Salt is AWESOME, and anyone who can marry her despite everything...Must be, by default, just as awesome. Not to mention the guy loves poisonous spiders and that he got her out of fucking NORTH KOREA. He doesn't fuck around.
Basic Idea:
The songs are semi-chronological, so if you know the basic plot, that's kind of how you can view these songs. The songs are mostly from Salt's perspective, because the movie itself is from Salt's deceptive perspective.
Tracks are individually uploaded, and uploaded in a .zip via Mediafire.com.
Some Files are m4a, most are mp3.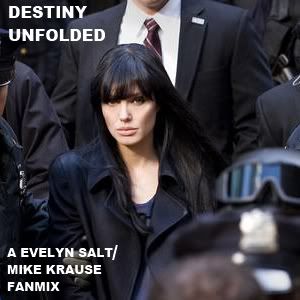 ( Read more... )